Never before have we read or heard about Pendrago.com. We thought that it isn't popular in our area because they brag about their popularity on the website (that's the idea you get when you visit their homepage). However, even when we did a short research that goes beyond their pages, we found out that this isn't a very popular service indeed. Not only are there little comments about it compared to other companies, but those that exist aren't good, either.
It's strange for a service that says to work since 2013 to have such a small appearance online. It's even stranger that the feedback doesn't date as far on the web, as if they didn't exist that far in the past. But, no matter how long they write papers, we still decided to order one. Let's go through all the details in our Pendrago review.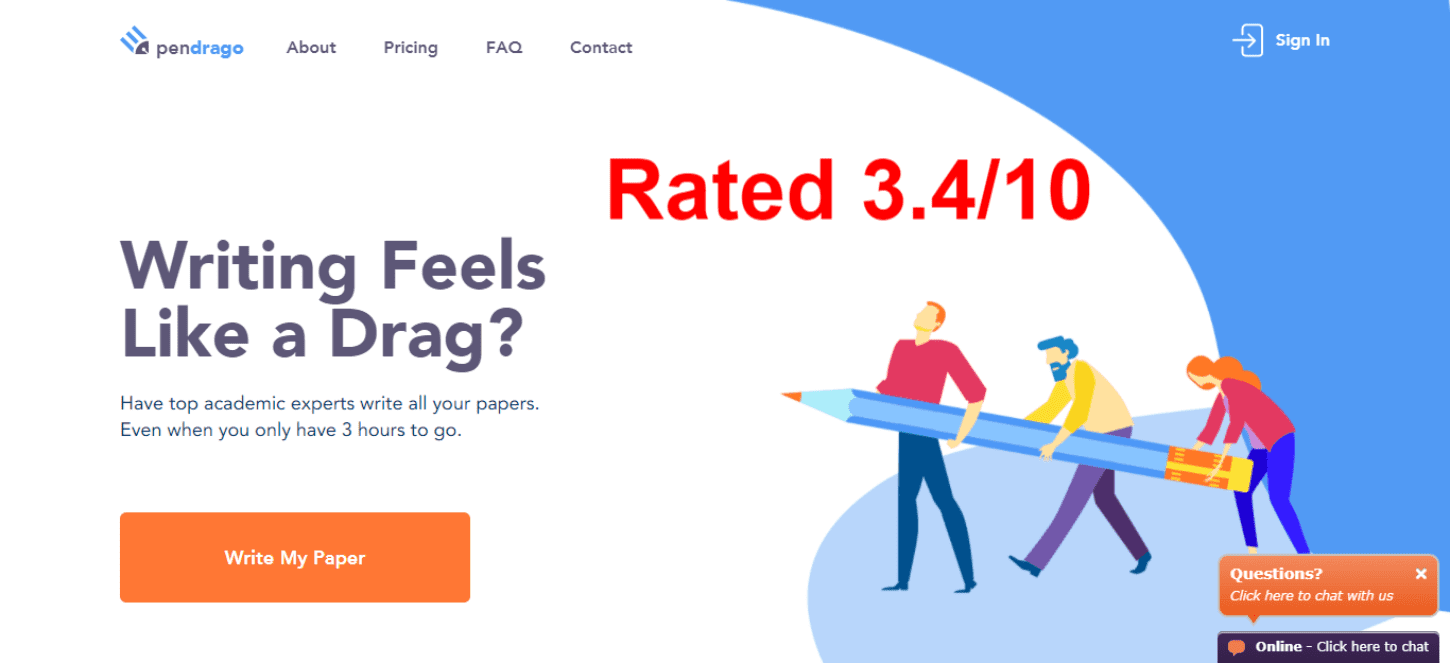 List of Services
You cannot possibly figure out what the services are unless you sign up to Pendrago.com and start filling out an order form. It's frustrating, we know, but we went through this ordeal to be able to tell you what they offer. They offer many, many things, including an option other in case you haven't found what you needed in that list of theirs.
Judged by the size of that list and the items in it, we don't see anyone clicking the option other because they didn't find what they were looking for. The list goes beyond just essay types and dissertations. They have admission essays, speeches, and all kinds of projects you might be asked to work on during your education. They also offer business services and create business plans, brochures, articles, business proposals, marketing letters, memos, newsletters, press releases, reports, and even SEO copy.
So far, we haven't found a service with as vast a list like this one. Pendrago doesn't just do academic writing, but have decided to do all kinds of writing. To do this, they'd have to employ a great number of writers qualified in different fields.
Pendrago Prices Review
Well, at this point, it became really annoying that the company hides the most important information. To get the prices for a paper, we also had to go through the order form. In the end, we found that this company is really highly priced, even for those who study at the lower academic levels.
For example, an essay for a college freshman within a week costs $24 per page. That same paper for a high school student costs $21.90 per page. A business plan within a week would have a similar cost – $26.51 per page.
This is, without doubt, a really high pricing system. There aren't discounts that would let you reduce the rates as a newcomer, so you're bound to spend these amounts if you choose to order here. If you're studying at a higher academic level, the prices become much higher. We can hardly see many students being able to afford the papers that are sold here.
Discounts & Additional Features
The only way to find out about the loyalty program Pendrago has is if you look at the left side of the order form. In small letters, they've written that they have 5%, 10%, and 15% discounts for returning customers who have ordered more times from their service. There aren't any details and since the customer support was no help at all to us, we can't really tell you how to use these discounts.
Regardless, if you've seen the quality we received from a writer here, we hardly think that you'd want to order here once, not to mention twice. For those prices, the writer was highly incompetent. The writing was terrible for a college level student, filled with mistakes, and the sources listed there were not at all reliable for an academic paper. We also found 20% plagiarism, which no professor would ever accept.
You can find some additional features in the order form. Once again, nothing is mentioned on the website, nothing important. We found everything important in this form, such as the prices and the service list. There you can also choose the citation style you need, number of sources you'd want to have, as well as whether or not you want the best available writer, your preferred writer, or – the most devastating option – a native or a fluent writer. This is the part where we realized that this company works with non-natives too, and they still charge a fortune for their papers.
Wondering about the quality of their content and the level of professionalism of the writers? Here's an example from a Sitejabber: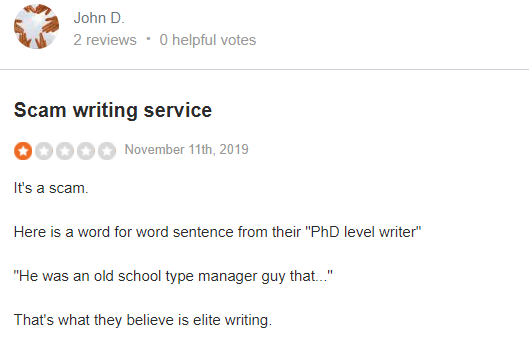 Is PenDrago Legit?
Many users label PenDrago as a scam. This is a serious accusation, given the fact that the company has persisted through many years on the market. We went through the terms and conditions, and they seemed fair. However, there is a part that says the company will not issue any refunds if the customer fails to comply with the terms and conditions.
When we asked for a refund, the support said that we weren't eligible. Why? No answer there. They use this as an excuse not to give your money back, even when the paper is terrible.
Ordered Paper Quality Review
We ordered a paper with a 10-day deadline, with the intention to save some money. The cost was $26.51 per page, and that's far from low. 10 days is plenty of time for the writer to complete an essay of three pages. But guess what: they were late for an entire day.
Throughout the process of completion, we asked for updates and the support ignored us. The writer was not available for communication. We contacted the support on the tenth day. They only said that the writer needs a few more hours and the essay will be ready. It took over 24 hours from that point.
This paper was obviously written by an ESL author in a hurry. He had no previous knowledge on the topic (social security for immigrants in the US). That was obvious to us, since he only paraphrased paragraphs from Wikipedia.
It's a shame for a service that calls itself "professional" to deliver work of such low quality. It wouldn't be that bad if the team accepted our request for revisions. They already took our money, so they could at least deliver what we paid for. Our request was ignored.
Customer Support
Pendrago has the worst customer support team we've encountered. We've used dozens of writing services so far and many had flawed communication systems. To say that this one was the worst is a bold statement, but it's the truth.
No one responds when you try to get updates. When you complain and request services that they promised (revisions and refunds), the team thinks of lame excuses to get rid of you.
The live chat requires your email for access, even if you're just inquiring about the company's prices. After that, be ready for some spam in your inbox.
Online Reputation
We didn't have to try PenDrago to realize it didn't enjoy good reputation among students. We found a few reviews warning others to stay away from it. The customers complain that the writers have no understanding of the academic writing concept. They write casually even when the order specifically requires PhD style.
Our experience was no better. Unfortunately, there weren't many positive things we could say in this review. Apart from the decent website, PenDrago doesn't try hard to earn the respect of its users. We'll update this review if we see changes. For now, we don't recommend this website.
Pendrago Review Summary
Based on everything discussed above, we cannot possibly recommend Pendrago. It deserves a really low rating because they have average content and really high prices, not to mention unprofessional support and terrible website.
User Pendrago Essay Reviews